Iconic Union Bank Plaza hits the market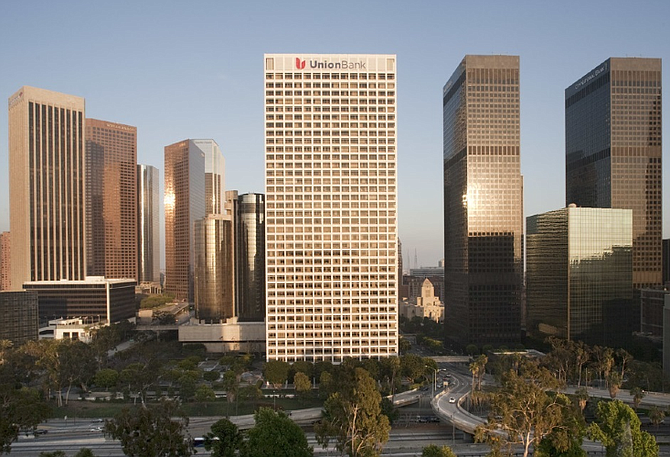 Union Bank Plaza, an iconic downtown property at 445 S. Figueroa St., is for sale.
The 702,000 square foot building is expected to bring in around $ 250 million.

The skyscraper has 674,731 square feet of office space and 27,157 square feet of retail space. The retail business occupies two floors of the building and 40 floors are offices.

Kevin Shannon of Newmark Group Inc. has the listing of the 3.6-acre property, which is 62% leased, according to the site's marketing materials. The weighted average lease of these tenants is 7.7 years.

MUFG Union Bank has 14 years left on a 15-year lease renewal and is the tower's largest tenant. The bank occupies about 30% of the building.

Union Bank Plaza was built in 1967, and it was the first downtown skyscraper to be designated a Historic and Cultural Landmark, according to the Los Angeles Conservancy.
The property is undergoing a $ 64.8 million renovation, of which $ 9.1 million is allocated for the lobby and courtyard, $ 3.2 million for the conference center plaza, 10.2 million million for retail, $ 2.6 million for boiler upgrades, $ 8.2 million for building upgrades and $ 31.5 million for leasehold improvements.

The modernization of the boiler has not yet started. A credit will be given to the buyer. For leasehold improvement allowances, $ 21.4 million has been spent over the past five years, and $ 10.1 million will be paid in the form of seller's credit.

The property is owned by KBS Real Estate, based in Newport Beach. In 2020, the company voted to liquidate its assets.

The property represents a rare acquisition opportunity, according to marketing materials indicating that 84% of Class A office buildings downtown are owned by long-term owners. Only four other downtown properties can accommodate tenants looking for more than 100,000 square feet of contiguous space.

KBS bought the property for $ 208 million in 2010.
A plan to sell Union Bank Plaza for $ 280 million in 2017 failed when the buyer exercised their right to terminate the deal, according to Securities and Exchange Commission documents.

It's not the only iconic downtown property that has been marketed recently.
Last year, New York-based Silverstein Properties bought the US Bank Tower for $ 430 million.

Silverstein Properties has since announced plans for a $ 60 million upgrade to the skyscraper, including a redesign of the lobby and main entrance.

Also last year, Rockwood Capital and LPC West, the West Coast branch of Lincoln Property Co., sold a 22-story skyscraper at 915 Wilshire Blvd. to German real estate investment company Deka Immobilien for $ 196 million.
For reprint and license requests for this article, CLICK HERE.