First-time author writes children's book to help cope with grief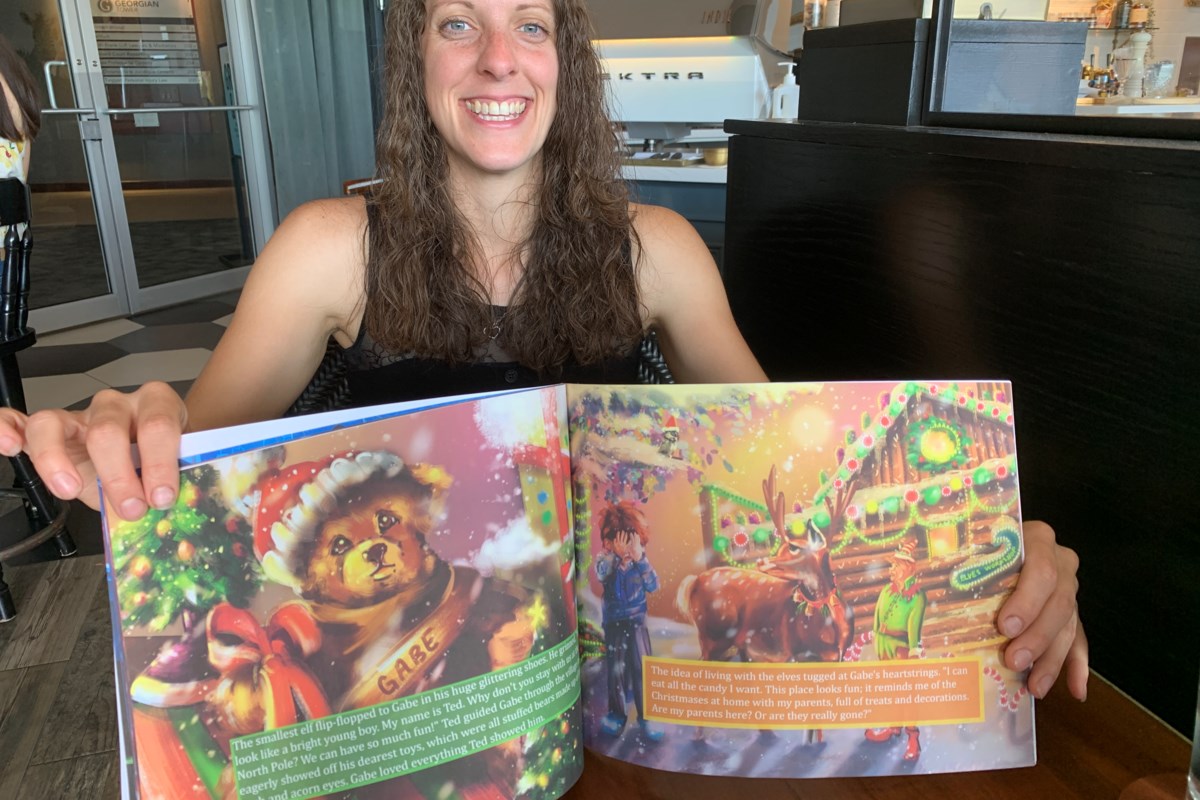 "I didn't just want to write a book. I wanted to write a book that you could relate to," says Barrie resident Katrina Doucet; Book launch scheduled for August 6 at Rivendell Books
It may officially be July, but a local author is feeling festive as the launch of her first book approaches.
Barrie resident Katrina Doucet will host a book launch on August 6 at Rivendell Books — located in Wellington Street Plaza — for her children's book titled Gabe's Christmas To wishwhich she describes as the story of a young boy's grief over the death of his parents.
"He makes a wish and that wish takes him on a journey through all the stages of grief, but more in a magical, childlike way. He learns to be strong," she said BarrieToday. "It's not easy for kids, but I wanted kids to be able to learn different ways to deal with (grief) in a special way."
In the story, Gabe comforts himself by holding the last gift his parents gave him: a snow globe. Looking out the window, the boy sees a reindeer just like the one in his snow globe, which begins to glow. Gabe closes his eyes, wishing to see his parents again. When he opens them, he finds himself magically transported inside the snow globe, along with the reindeer.
Together, the pair fly to the North Pole, where Gabe is shown around the village bustling with friendly elves. However, all that Christmas spirit makes the young boy even sadder about the loss of his parents. Comet the Reindeer then brings him to a sparkling, magical pond, where Gabe gazes at his watery reflection and unleashes a cascade of emotions: sadness, longing, and anger.
Doucet says she originally came up with the concept for the story while living in Sudbury, but the latest iteration of Gabe's journey didn't happen until last year.
"I wrote it the way I wanted but changed the whole story. Originally it was supposed to be about a boy who saw a reindeer in a window and more of an abstract story" ", she said, adding that she decided then that she wanted it to be more for children. "It was too long … but it was still about a boy named Gabe and Comet. are the two things that never went away, and then I condensed it into 1,000 words.
Doucet says she hopes the story will help children find a positive way to deal with their own grief.
"I just know that everyone goes through it. I didn't know if it (grief) was talked about a lot, especially in children's books, so I wanted to find a way to do something that had a purpose. I didn't just want to write a book. I wanted to write a book that could be told," she said.
Seeing her words come to life in the beautiful, "dreamlike" art of Canadian illustrator Natasha Pelley-Smith makes her especially proud, Doucet added.
"I think I've created something that kids can take with them as another tool to go through their individual lives. I see books as a resource and a tool and something to remember — a special gift," she said, adding that the images captured perfectly how she saw the story in her own imagination. "I wanted it to be something like The Polar Express…and she did it perfectly.