City will fence off mall area frequented by homeless people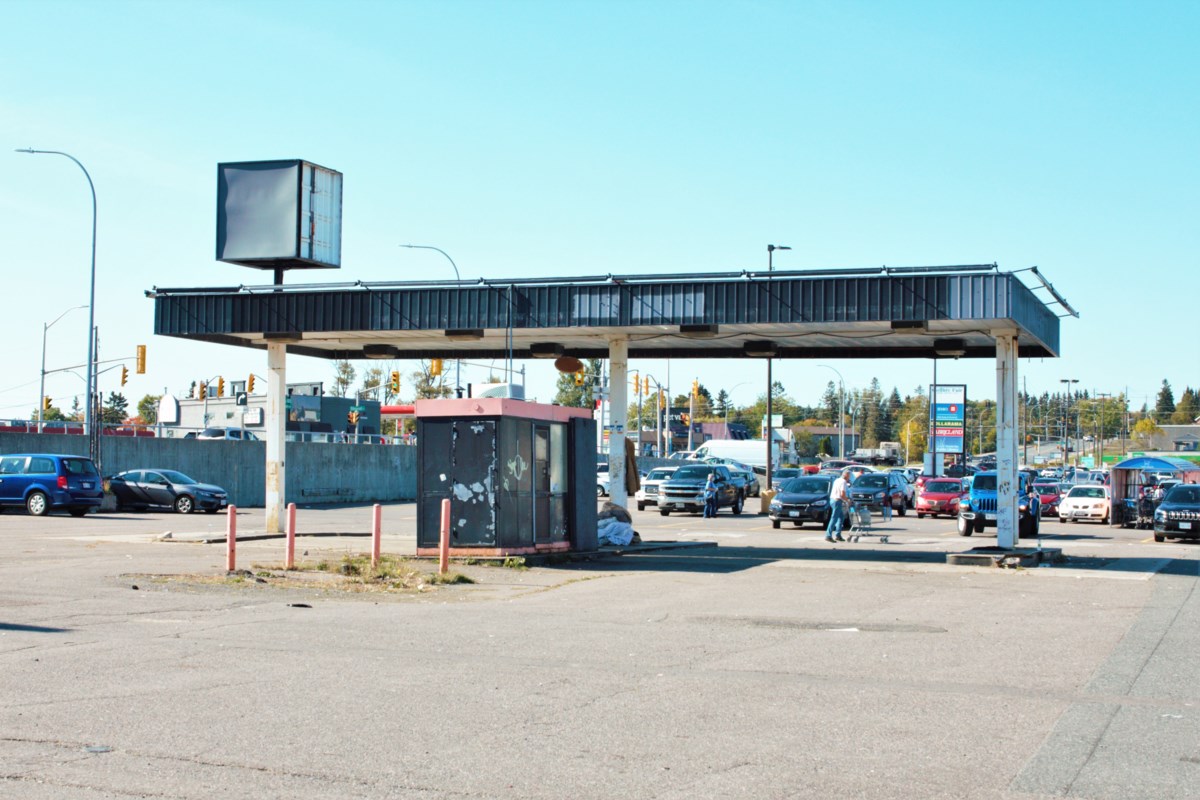 The city plans to clean up and fence off the abandoned gas station used as a shelter by the homeless this week, with police on standby.
THUNDER BAY – The City of Thunder Bay will erect a fence around a former gas station that has become a gathering place for homeless people at the County Fair Mall.
The city plans to clean up and fence off the area on Friday, with city police present to "keep the peace", according to the force.
Mayor Bill Mauro called a meeting with police, public health and other local agencies earlier this month, saying the growing number of people sheltering on the property posed public health and safety concerns .
Local advocates and some who frequent the site say the entry ban will only remove the problem from public view, not solve it, highlighting a shortage of support services.
Attempts to work with the owners of the former Sunny's Gas Bar property in the mall's parking lot to find a solution were unsuccessful, city officials said at a public meeting held by the city councilor on Tuesday. McIntyre Ward, Albert Aiello.
"The mall has always been a place with a lot of social problems, a lot of homeless people," Aiello said. "We see beggars, we see open drunkenness, people approach other people for cigarettes, for money."
These problems intensified over the summer, he said.
The small plot of property, where the gas station overhang and concrete slabs are located, is owned by County Fair Plaza Ltd. – a company not associated with the County Fair Mall, despite its name (the mall is owned by Goldmanco Inc. of Toronto.).
The city is in a position to intervene as the encampment has caused public health problems, licensing and law enforcement official Doug Vincent said at Tuesday's ward meeting.
Lee Sieswerda of the Thunder Bay District Health Unit said fencing the area was warranted, given the repeated issues, including bodily fluids, garbage and rotten food. Those sheltering at the site are also at risk of being struck by a vehicle in the busy parking lot, he said.
At the ward meeting, Thunder Bay Police Department Staff Sgt. Ron Maki said police would support the city's solution, but would be of little help in solving the basic problem.
"We now have general trespassing authority from the owner of this property," he said. "So yes, we can come in and kick everyone out, but unfortunately that's not going to address the root cause."
"Until social issues are resolved, this will always be an issue the city ends up dealing with over and over again – if not at County Fair, elsewhere. "
Approaching the city "won't solve the biggest problem at all," Vincent admitted, with people likely moving to a nearby wooded area instead.
A man who identified himself as Kyle, of the Webequie First Nation, said that with no place to stay, he often takes refuge at the gas bar.
"This is not where I want to be," he said. "I tried to go to rehab."
However, he said clients are only allowed to stay there for treatment for seven days.
"After that I go back to the same routine," he said.
Kyle was aware of the city's plans to fence off the area on Friday, claiming he was informed by outreach workers. He's likely to end up staying in the bush instead, he said.
It's a familiar story, said Leesa Davey, who coordinates Matawa's WiiChiiHehWayWin outreach program, who worked with the city on the issue.
"They don't really have places to go," she said. "They are pushed out of there with no real plan on where the alternative spaces [are] for them. So I think they will eventually move to another region.
The gas station is one of many places in town where outreach workers provide basic supplies and seek to connect people with services like drug addiction and housing programs.
The problem is, these programs are already overloaded, Davey said.
"I think the real problem in the city is the lack of mental health and addiction services. We have people coming in and out of detox on bicycles, and spaces are limited there. "
As the country prepares to mark a National Day for Truth and Reconciliation, Davey said the community should recognize that homelessness reflects the continued impact of colonialism on indigenous peoples, who constitute the majority of homeless people. from the city.
"My point would be to say it's everyone's problem," she said. "Homelessness did not come from nowhere – it comes from colonization, the impacts of the Indian Act, oppression, intergenerational trauma caused by residential schools.
Andrea Hygaard, manager of the Landmark Hotel, echoed the sentiment, but said the situation left her business to suffer unfairly.
"People come in and cancel their rooms because of driving through it," she said. "They say they don't feel safe leaving their vehicle to enter the hotel."
She agreed that the gas station fence wouldn't solve the problem, likely forcing people only a few hundred yards into the woods. Still, she called it a positive step for her business.
"There is no easy answer," Hygaard said. "It's a social problem. That being said, this is not a Landmark problem. It is very difficult to be a tax paying company and to have to put up with that.
The situation is the result of a society that has turned its back on those who need help, said Kate Rookes of activist group Not One More Death.
"We see these settlements as serious attempts to create safe shelter for people in need of accommodation," she said.
She criticized the city's response for apparently focusing more on the needs of businesses than on the homelessness crisis.
"At the end of the day, it's not about protecting private property, or it shouldn't be," she said. "It's about keeping human beings alive.
Those without a place to stay may avoid emergency shelters for a variety of reasons – women often do not feel safe there, while policies prohibiting intoxication or possession of illicit substances keep them away. others, Rookes noted.
Meanwhile, people may face waits of more than a year to access more stable housing assistance, she said.
Bill Bradica, executive director of the Thunder Bay District Social Services Administration Board (TBDSSAB), agreed that there is a serious shortage of supportive housing, which he says is necessary for many people successfully switch from roaming to self-catering.
The TBDSSAB administers social housing and provincial funds for emergency shelters and other programs to reduce homelessness, while supportive housing is largely funded by the province and organizations like Dilico and John Howard Society.
The waiting list for social housing in the neighborhood has shrunk from more than 1,000 people three years ago to around 850 today, Bradica said, with an average wait time of around 10 months now.
While there is always a need for more social housing, he said the crisis lies in the lack of supportive housing, where waiting lists can be much longer.
"The greatest need right now is for more transitional and supportive housing, as emergency shelters are not the answer," he said. "They are meant to be [a] very, very temporary solution while people are then helped in ideally a transition or support environment. But if this capacity is not there, the shelters remain at or near full capacity. "
The two TBDSSAB-funded emergency shelters, the Shelter House and the Salvation Army Men's Shelter, operated at more than 90% of capacity during the first half of September, Bradica said. They offer a total of 93 beds, including overflow capacity.
Mayor Bill Mauro was not immediately available for comment on Wednesday afternoon.
He previously said the city's approach to the issue at the county fair would serve as a model for addressing similar issues in the future.
Mauro called on the provincial and federal governments to provide more funding for homelessness, expressing disappointment at Queen's Park's lack of support for a mental health and addiction crisis center project supported by many local service groups. health and social services.